Overview
Check out the "swiss knive" amongst pilot software suites:
flight log with customizable filter and sort options
printed documentation (including tandem log)
works with nearly all new and old varios
fully automated flight import and analysis
more than 400 statistics with filters
import/export of flights and pictures
import/export of waypoints, tasks and airspaces
automatic airspace and height update
DropBox sync
map based waypoint editor (also offline)
FAI and task planner (also offline)
upload flights to XContest/DHV
thermals analysis
integrated picture viewer
reference flights database
portable software (no install, runs from USB stick as well)

Flight log
View a whole pilot's life at a glance. You can enter flights manually, download them from leonardo servers, draw a bunch of them into the flightlist with the mouse or read a comnplete flying weekend from your device with one single click. The device readout smoothes peaks, detects tow launches, calculates effective takeoff and landing times and even splits flights if you forgot to switch off your logger between them.
Detection of launch, flying site, country or timezone is fully automated. Numerous data fields and attributes exist for each flight, and in-place-editing in the list is also available. Filter flights by defining criteria or just double-clicking on the desired cell value, edit multiple flights at once, and define your very own list layout.
Group a set of information windows and restore it automatically with every start. Maintain as many logs as you like – for your family or a club competition, but also as data repository for site analysis. Even if you're an aeroplane pilot as well, the software will help you as it also can manage FCL/JAR compliant flight logs.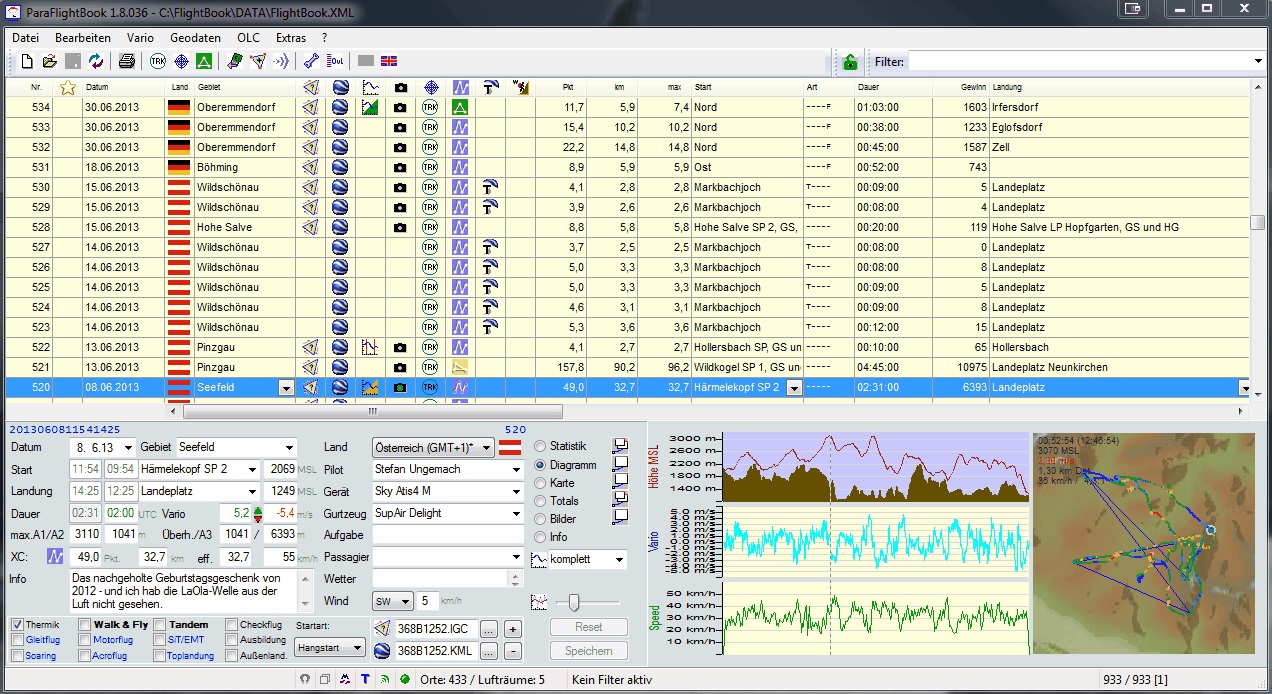 Waypoints and maps
New philosophy: ParaFlightBook treats waypoints, launch sites and airspaces together as "sites" – just like the pilot who only says "I'd like to fly there".
You can open as many map-enabled site windows as you like – and copy items per Drag&Drop between them. Each window knows all kinds of common formats: WPT, CUP, KML, OpenAir, SeeYou… – and of course you can drag such a file just on the programs window as well.
A double-click in the map creates an editable waypoint; GeoServices in the background retrieve altitude, country and even a naming suggestion. Airspaces are drawn with the mouse – so it's also easy to store i.e. dangerous lee areas and to bring them on your device.
A global GeoData collection learns from flights and supports itself the automatic recognition of site, launch and landing places.
Complete sites can also be directly loaded in the map-enabled vario dialog to be sent to the device – in one step; the splitting into waypoints and airspaces is handled internally. An AutoSort-feature makes it easy to create sub-sites for your own XC plans.
The export into all supported formats is also possible. ParaFlightBook is a most comfortable editor for all kind of flight-related kinds of GeoData. Some common use cases are:
filter an OpenAir file by floor and glider relevance, or combine several of them
prepare yourself for holiday with a customized site including even thermal spots from the TSP
convert GeoData while checking what's in there
check the quality of waypoint lists
share site descriptions with your friends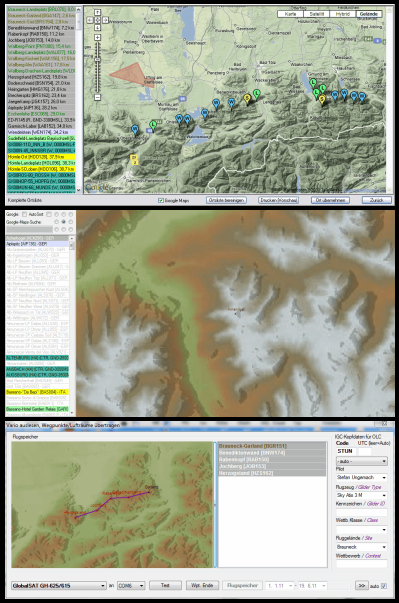 FAI and thermals
ParaFlightBook includes an offline task planner with XC optimization. Draw a task, watch its scoring, add waypoints and airspaces, save and send to your preferred instrument.
PFB also integrates several online FAI planner tools, including one with the capability to send FAI sectors as warning-enabled "airspaces" to instruments without FAI capabilities.
An innovative thermal analysis does not only analyse your ascent phases but also tracks them back to their origins, thus creating a database of the true points where thermals are born. Other flights can be downloaded to or drawn into the analysis window to extend your private thermal database. You can also print thermal maps.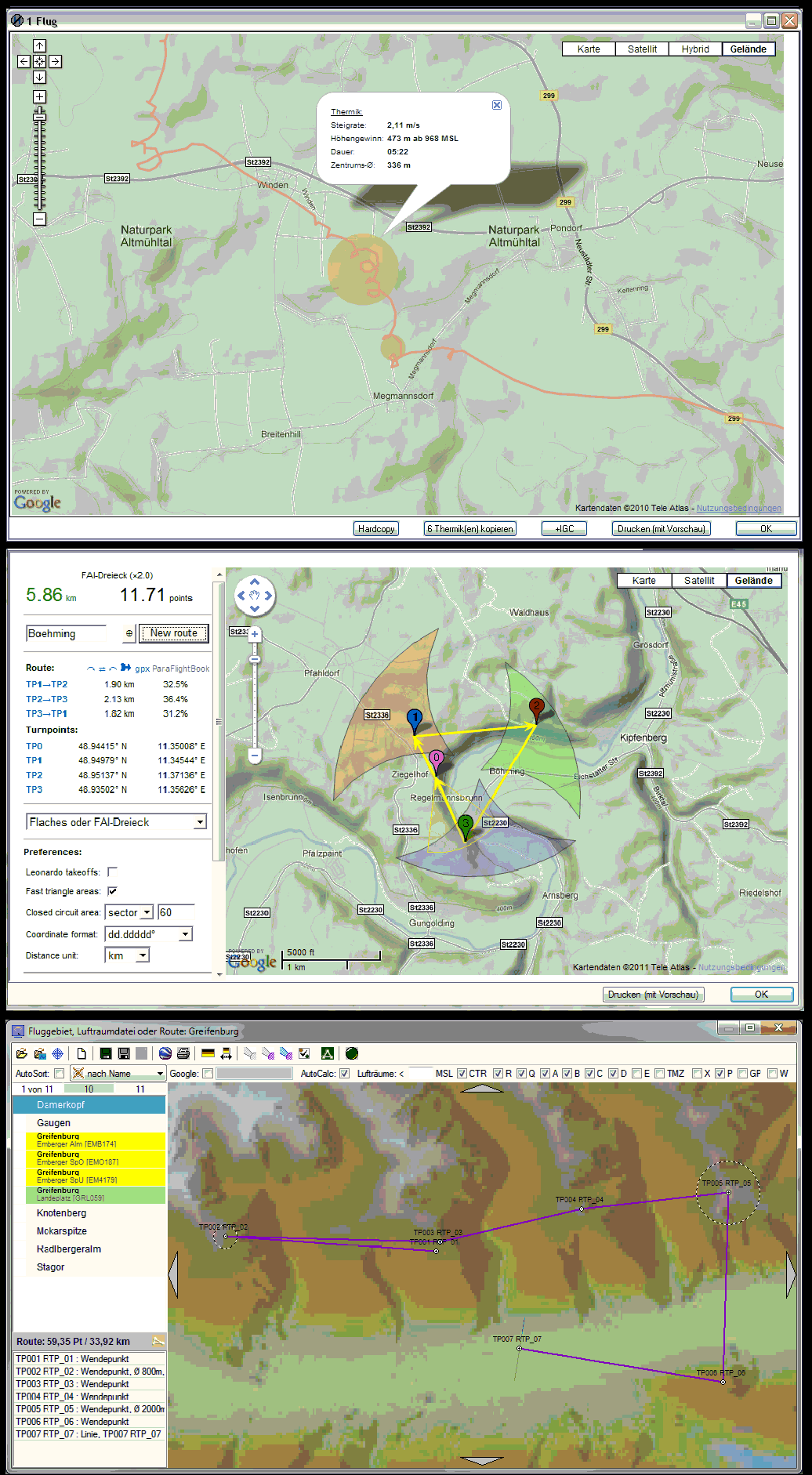 XC and OLC
The built-in XC optimizer calculates flights with customizable factors. It also supports "live" the internal route/task planner.
Flights can be uploaded directly to XContest or DHV-XC. This can be done groupwise or per flight. The different class rules for 2012 are implemented.
Having read out your device, the new flights are already selected for opimization and upload.
Statistics
The info area has several modes (more than 400 filter-enabled statistics and totals, diagrams, picture viewer) which are synchronized with the current flight. Each of them can be separated and docked; you can open as much as them as you like.
Statistics cover:
flights (all, >4 minutes, from 1/2h, from 1h)
flight hours
flight modes (H&F, acro, tandem, education and EMT)
flying days and weekends
flying areas
countries
maximum altitude, height and relative height
H&F meters
maximum ascent/descent
maximum/average groundspeed
maximum/average duration
maximum/average/summed XC points
maximum/average/summed XC km
maximum/average/summed km
over:
year
advance (compared to current date)
season
pilots year (from 1st flight)
month of year (for each covered year)
month
day of week
launch time
wing
harness
instrument
area
country
pilot
passenger
launch mode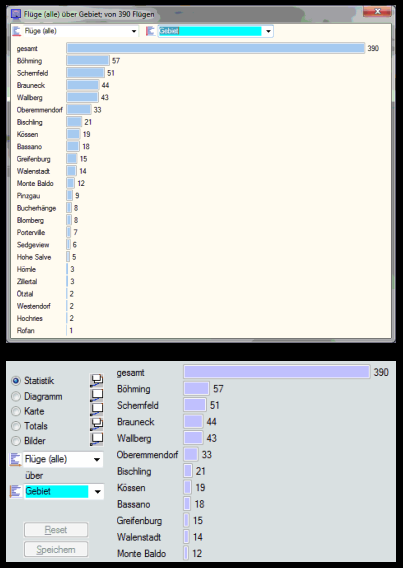 Graphs and images
Flights with GPS data are shown in many diagrams which also can be opened in a separate window (i.e. to check for airspace violations). Even the manual correction of start and land time in the diagram is possible.
The filtered flight log can be shown in several XSL-customizable reports (pre-defined: Tandem, flight instructor log, FCL/JAR etc.). You can add as much customized reports as you like.
A picture viewer, in which photos and/or references can be drawn and scaled, is also included.